Filter by Category
Personal Development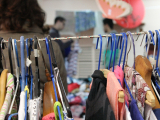 How to Get and Stay Organized (New) - R1 HVRHS
with Jan P. Baltrush

Jun 3, 2020 at 6 pm
Participants will learn strategies to tame those piles of paper, organize those closets, and tackle that "junk /spare room" we all have. Participants will have the tools to make the necessary decision about what they are keeping, donating or discarding, and then knowing were to store the things that they are keeping.
Introduction to the 7 Chakras (New) - R1 HVRHS
with Kristina Diamond

Jun 3, 2020 at 6:30 pm
Chakra is an old Sanskrit word that literally translates to wheel or disk. There are seven main chakras or energy centers in our bodies.  Immerse yourself in a chakra journey where you will learn the importance of opening and balancing each of your seven energy centers in order to help maintain a healthy vibrant self! The class will end with a guided meditation to clear and balance your chakras.