Filter by Category
ESL, Citizenship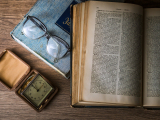 ESL English as a Second Language
with Margot Snellback

Aug 20, 2020
Want to learn or improve your English language skills? FREE classes cover reading, writing, listening, and speaking. Classes cover communication skills, daily living, civics and career awareness topics. Students will have the chance to learn basic computer skills and use technology in their learning.
U.S. Citizenship and Naturalization
with Margot Snellback

Aug 20, 2020
Citizenship classes prepare students to take the United States Naturalization Test. Students learn about the rights, responsibilities and privileges of U.S. citizenship. The class includes reading, writing and speaking opportunities while learning facts to pass the citizenship test. Students will receive assistance with the citizenship application from an experienced instructor. This class is free.
Fee for Out of Service Area
with Margot Snellback

Sep 3, 2020
You will be notified if you need to PAY this.  This ONLY for students who live outside the towns EdAdvance services for CT State Mandated classes with EdAdvance.  This is a $20 fee to the State of CT.