Filter by Subcategory
Trips & Tours
West Point Dress Parade - Litchfield

Apr 25, 2020 at 7 am
West Point Academy invites you to view the famous Dress Parade conducted with great pomp and circumstance on the parade grounds. The Cadets march in full uniform, in cadence with military music, presenting arms in unison. Lunch at the Hotel Thayer for a Bountiful Buffet. Enjoy a wonderful assortment of salads, hot & cold entrees and delicious desserts. Guided tour of West Point highlights: Cadet Chapel, Trophy Point, Hudson River lookout. *Please note: due to security on government grounds, you will need to give us the DOB for each person on this trip and indicate if you will be bringing a driver's license or passport for ID.
Full Course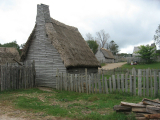 Plymouth 400 - An American Story - A National Legacy - Litchfield

May 30, 2020 at 7 am
America is poised for an anniversary of national significance, the 400th anniversary of the Mayflower Voyage and the founding of Plymouth Colony! The newly restored Mayflower II is returning to Plymouth Harbor in 2020. Visit the Mayflower II =, the re-creation of the ship that brought the colonists to new Plymouth. Stop at "The Rock" where the Pilgrims landed and take in this famous waterfront. Enjoy a traditional Thanksgiving Buffet at Plimouth Plantation. All your favorites: Roast Native Turkey with Cornbread Stuffing, Giblet Gravy, Potatoes, Cape Cod Cranberry Sauce, Fruit Cobbler for dessert, and more. Afternoon visit America's premier Living History Museum – Plimoth Plantation. Experience a recreation of the daily lives of these early colonists & native Wampanoag. It is living, breathing history 400 years in the making.
Will run
Thimble Islands Cruise - Litchfield

Jun 27, 2020 at 8:45 am
We will start our day at the Clinton Crossing Premium Outlets for discount shopping. Delicious lunch at the Chowder Pot III in Branford, CT. Known for their generous portions of fresh food, the Chowder Pot's menu features choice of: Baked Stuffed Sole, Baked Salmon, or Chicken Piccata. New York Style Cheesecake for dessert. Entrée Choice in Advanced. The Thimble Islands Cruise aboard the Sea Mist takes us along the Rocky Isles off Stony Creek Coast in Branford, CT. See the wonderful estates and learn the stories of these beautiful islands. *Please Note – approx. 2 blocks walk to boat from bus on a paved hill.
Full Course